Prophecy – His Moonlit Return EP
1998
This EP has been in the making since all the way back in 1998. I was in high school and apart from playing guitar, gaming and going out with friends I enjoyed making all kinds of music. Back then we used to make songs in so called "Trackers", the popular ones being Fast Tracker II and Impulse Tracker. We didn't have (good) Midi instruments so we had to find and extract samples from so called "Mods", songs that other people created and distributed all over. The downside with samples is that they have a fixed key or pitch. If you play it in a higher note, the playback speed will also increase. So we were pretty limited in a technical sense but that didn't stop us from being creative.
At that time I listened to a lot of metal, which I can still really appreciate but I don't take it all too seriously. Maarten, the composer, was anything but a metal enthousiast but we could have a lot of fun with it since we both liked the tongue-in-cheek side of it. Maarten was into classical music which can go really well with metal, if done properly. Maarten is a very talented musician and together we came up with all these ideas, melodies and structures which we crafted into songs. At a certain point we were "done", or at least Maarten was done with it and I took over. But for now we only had crappy sounding Tracker songs with lots of potential and no vocals or lyrics whatsoever. At that time we just graduated high school and we went our separate ways. I always kept the songs safe since I wanted to finish them when the time was right.
1999
I have always been a big fan of old movies and with horror being my favourite genre. The old Hammer Horror movies, especially the Dracula movies with legends Christopher Lee and Peter Cushing always had a special place. I would order the VHS of every movie and every now and then I would go to the videostore to pick them up. Good times… Of all the Hammer Dracula movies. "Taste the Blood of Dracula" has always been my favourite and that's why in april 1999 I digitised the audio of my VHS copy of "Taste the Blood of Dracula" and tried to edit a narrative that was fitting to the music of the fourth track "Release". At that time that was the first and only song that had some form of lyrics. And that was the last time I touched the songs in the 90s.
2017
In 2017, almost 20 years later, I decided to finally finish the songs which meant that it had to be translated from that ancient "Mod" format to current day format. Fortunately there exists software that allows you to convert Impulse Tracker songs to midi. It took a lot of time sifting through everything to make sure it translated well. After that I had to search for the right sounding instruments and record some guitar parts.
I also wanted to pick up guitar playing which I hadn't done in years. In 1998 I had a huge amp and speaker cabinet that took up quite some space and I wasn't planning on buying something that size again. But music technology hasn't stopped evolving over the years so everything became smaller and more accessible. I choose Logic Pro as the DAW I was going to use to mix and master everything. Basically I had to learn everything from scratch the way you learn it best: by just doing it. As with a lot of things I discovered the hard way that audio can be incredibly complex and requires a lot of experience and knowledge. But I think I did a reasonable job considering I had to start from basically nothing. There are probably thousands of things I'm doing wrong but hey, it's a fun way to pass the time.
2021
Basically all the songs except "Release" were still instrumental. That wasn't really by choice more like a unfortunate side effect of not being a lyricist. But because "Release" worked so well I decided to make it more of a concept album built around the classic Hammer Horror Dracula movies. It wasn't until May 2021 that I scrubbed through all 9 Dracula movies, searching for bits of interesting dialogue to build little stories. If I have learned one thing from being a professional editors for over 20 years is that stories don't tell them themselves although very few times there are exceptions. There are so much cool pieces of dialogue in those movies which made it hard and I had to kill a lot of darlings. But I wanted a clear overall structure and I went through a lot of iterations. Eventually each song contains dialogue of two Hammer movies and I tried to make it sound as if it came from one.
Below you can check each song with it's own story.
---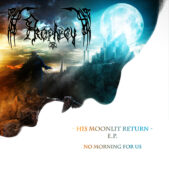 There were also some tracks that didn't make the cut. In total there were 7 tracks and I kept 5. Which leaves 3 tracks to be forever abandoned. They had some potential but in the end I don't think they would be worthwile. One was called "Blood of the Martyred" with a length of 5,5 minutes. It had a lot in common with "A Last Blaze" and had some cool parts. "Of Light and Madness" would have been an instrumental song. The biggest problem was that it wasn't finished. It's almost 2 minutes and maybe I could make something out of someday…